---
Summary:
Studying law will allow you to understand the world more fully, to help others, and to have a meaningful and rewarding career. To be successful, you will need a proper foundation. Georgetown's Pre-law Program is highly competitive, admitting no more than 18 students annually, and highly beneficial.
For due dates and a list of other programs of distinction, click here.
---
Georgetown College students have an exceptional record of law school admission with partial and full scholarships. In the past three years alone, Georgetown's 31 pre-law graduates have been admitted to 45 different law schools, including University of California-Berkeley, Georgetown University, Vanderbilt, Emory, University of Kentucky, and Brandeis School of Law at the University of Louisville.
As recommended by the American Bar Association, students in pre-law will choose their own major from among Georgetown's many excellent academic programs. While political science and philosophy are common choices, pre-law students also major in English and history, business fields, and the social and natural sciences.
---
The Pre-Law program at Georgetown College will give you access to knowledgeable and caring advisors. The guidance provided by these extraordinary individuals helped me assemble a competitive application.
Keaston Hall, Georgetown College Class of 2017, Emory Law School Class of 2020
---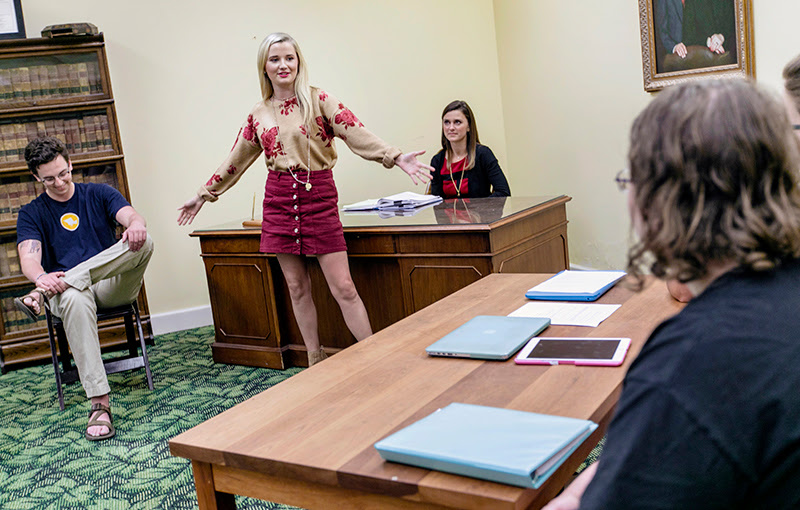 Students in the pre-law program:
Receive individual advising on course selection each semester by the director of the Pre-Law Program.
Take dedicated courses focused on developing the skills and aptitudes required for law school admission and success.
Enjoy valuable mentorship and internship opportunities through our many contacts and through hosted events on campus.
Take part in basic LSAT preparation and extensive law school application assistance.
May participate in Mock Trial and Model United Nations teams as time and interest allow.
---
"Attending Georgetown College was the best thing that I could have done to prepare for law school. At Georgetown, you are challenged to develop analytical reasoning, problem solving, and critical thinking skills that are vital to success at the next level."
Adam Wetherington, Georgetown College Class of 2013
---
Applications & Questions
To apply to this program, please complete the application: click here.
---
"When I found out that I had been accepted to my top choice law school, the first phone call I made was to my advisor. Yes, I called my professor in celebration before calling my own parents. The faculty at Georgetown just makes you feel like family."
Kathryn Wilhoit, 2017
---
100%
100% of our pre-law graduates in the last five years have attended law school!
Business Law
Along with many valuable political science courses, pre-law students will also be able to take Business Law, Theories of Economic Justice, and many other valuable cross-disciplinary courses, ensuring that they are fully prepared for law school or any other career!
Successful Graduates
One recent graduate went to Georgetown University, and is now the Assistant Attorney General at the Office of the Attorney General for the District of Columbia!